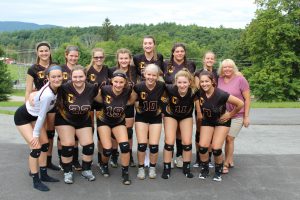 Canajoharie and Fort Plain Central School district combined teams to create the girl's volleyball team.
"The teams are working well together. We have a wonderful mix of talented players from each school," said Varsity Coach Lisa Trembley.
The girls went to a ropes course in August to help bond while overcoming obstacles together.
"It was a fun way to work on team dynamics."
The team is still working and improving to grow.
"We are excited to play this season."
Check out the girls play! Here is the upcoming schedule:
Saturday, October 6: Tournament – Varsity @ Schoharie
Tuesday, October 9: @ Duanesburg
Thursday, October 11: @NDBG
Tuesday, October 16: Non-League Game – Hadley-Luzerne@ FP (Senior Night)
Thursday, October 18: Tournament @ WAC
Saturday, October 20: Tournament – Varsity @ Mekeel
Wednesday, October 24: Sectional Prelims
Friday, October 26: Sectional Quarters
Tuesday, October 30: Sectional Semis
Friday, November 9: Exceptional Senior Game @ TBD